Meet the Producers
Calder's kitchen
Calder's Kitchen was formed by husband and wife team Andrew and Anne-Marie Calder in 2015. They started making Piccalilli in their family kitchen after discovering Andrew's late Granddad, Charlie's favourite family recipe and deciding to 'give it a go'. After initially giving their first batch to family and friends to try and receiving great feedback, they started to sell hampers at Christmas to raise money for a school in Tanzania, East Africa. They later developed two variations on the traditional recipe, Chillililli which has a delicious medium strength sweet chilli glow and later, the slightly naughty spicy Sillylilli (Andrew's favourite which he now eats with, well pretty much everything!). They take pride in their values which are providing quality, fresh and unique flavours, hard work and making our customers smile.
 Sunderland College
The breads produced are all designed and carefully made by students studying at Sunderland College. Under the guidance of the experienced team, over the last few years our talented students have worked on recipes, production methods and bread types, learning the art of traditional bread making.  Our students are very pleased, and staff are proud to be able to offer a selection of our favourites to you through the Sunshine cooperative and we very much hope you enjoy the fruits of several years' labour!
Screaming Chimp Chilli Sauce
At Screaming Chimp HQ, they think it is important to supply the best product possible, and only use the best produce for the job. Mr and Mrs Chimp make small batches from their kitchen at home, which brings them immense joy. They have always had a passion for cooking, so when an old friend kindly gave them some of his chilli seedlings, which grew big and produced lots of chillies, they knew what they had to do. Using home grown chillies and as many locally sourced ingredients as possible, Mr Chimp set about developing the sauces into the mouth tingling range they have today. The only problem was what to call them. That serendipitous moment came along when visiting friends (you know who you are) and teaching their children how to blow on a blade of grass between two thumbs to make that strange noise we all know ….."That sounds like a screaming chimp"..…. "SCREAMING CHIMP!! That's an awesome name. Perfect…that's what I'm calling the sauces". So, now they couldn't be happier making their troop of artisan Screaming Chimp Chilli Sauces ."Scream if you want to go hotter!"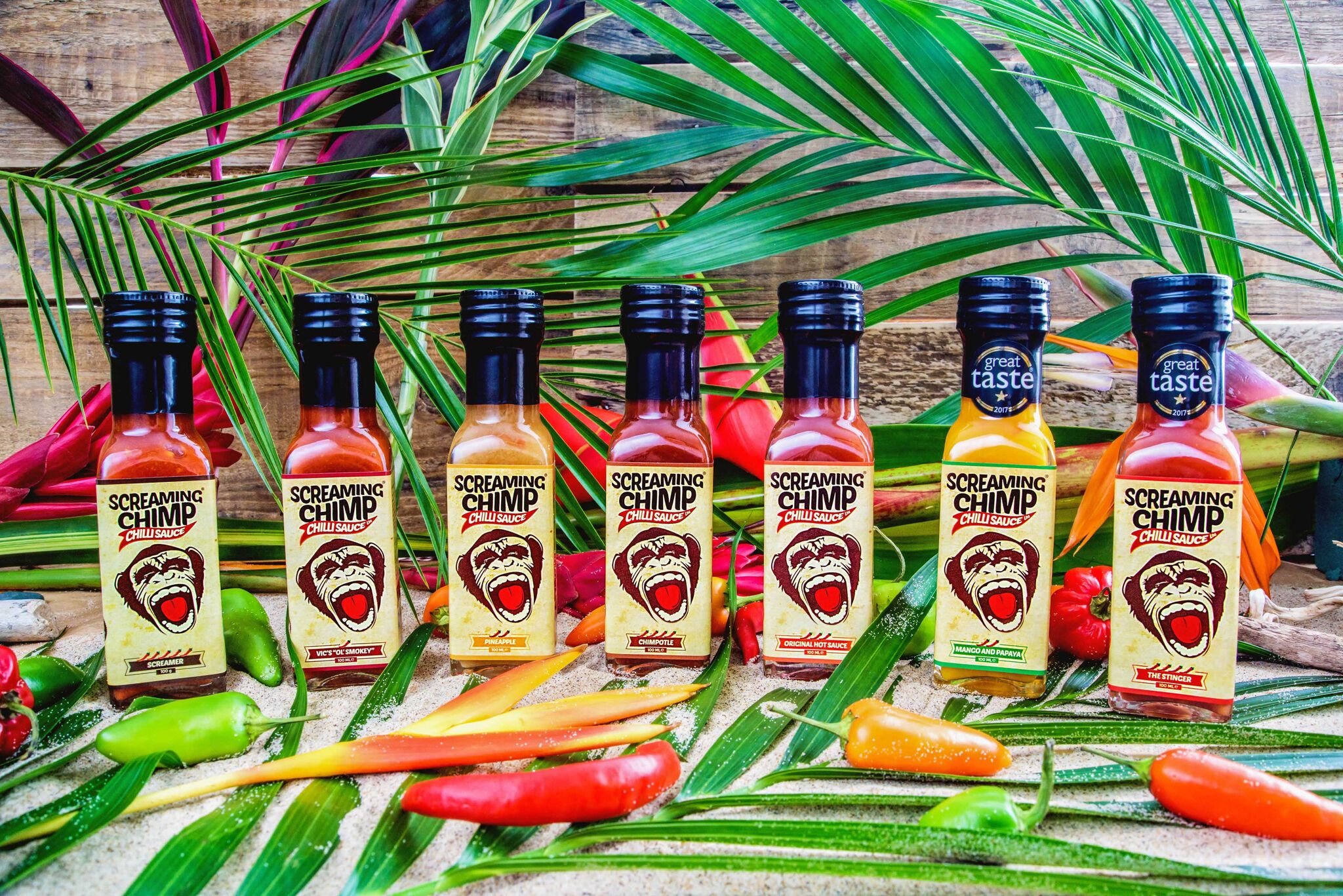 Theon Nectar
Husband and wife duo Lisa and Yianni would like to invite you to experience and taste how they eat in their home. The Theon Nectar range of products originates from Chrysafa, a small village cited on the western slopes of Mount Parnon, 13 kilometres east of Sparta, Lakonia Greece. With passion and devotion, they offer the finest quality with their products grown and produced by Yianni and brought by Lisa to her home ground in the North East Their products provide a wealth of benefits and they would like to invite you to start a journey towards health and well-being!
Acorn Dairy
The Tweddle family has been farming at Archdeacon Newton, near Darlington, since 1928 and today, four generations later, they are still heavily involved in dairy farming. You could say it's in their blood! In 1998, as public awareness of the quality and traceability of the food we eat became more vocal, they decided to convert Garthorne Farm at Archdeacon Newton and Hallwith Farm near Leyburn in Wensleydale to organic status. Since then, Gordon and Linda Tweddle, together with son Graham and daughter Caroline, have revived the tradition of doorstep and wholesale delivery across the North of England with organic milk and cream and other complementary produce from Acorn Dairy. Winner of the Food Awards England 2017.
Weardale Cheese
Since 2015, Weardale Cheese has produced a range of artisanal hard and semi-soft cow's milk cheeses in the unique setting of an old Prisoner of War Camp hut in beautiful Weardale, Co. Durham. The milk comes direct from a neighbouring farm and is brought down straight after milking on a cheese day and made in small batches by Simon. The cheeses made include 'Weardale', a firm, white northern dales cheese, a semi-soft 'Brie de Weardale', St. Cuthbert, a semi-soft blue, 'Prince Bishop', also blue but firmer, 'Bonny Moor Hen', lightly smoked with cherry wood, a subtly flavoured 'Weardale Nettle' and the Spanish inspired 'Diablo', flavoured with smoked paprika and chilli flakes.
DaVi
The people behind the Pasta…..
Davide and his partner Lucia left the beautiful city of Reggio di Calabria in southern Italy in Autumn 2008 in search of a more prosperous life for themselves and their then tiny daughter Elena. Davide had worked as a high level waiter in some of the finest catering companies throughout Italy while Lucia studied Interior Design. Meantime Vincenzo worked as food and beverage manager in Milan.
Once the decision was made Lucia travelled by air with Elena while Davide loaded their car to its limits, including his much loved windsurfer (had he known how cold the waters surrounding Newcastle were then he might not have bothered!)
After a few years of working in Newcastle's best restaurants Davide decided it was time to move in my his own direction. His core passion was always cooking so how better to earn a living than by doing what he loved! As passionate as he is, this was not a task to embark on alone. After two brief facetime calls to his brother Vincenzo in Italy, he agreed to join Davide and DaVi (short for Davide & Vincenzo) was born!
The Secret Recipe
Place all the wisdom of mum's hands, add all her imagination, add all her patience. Then, place the dedication to father's work, the bravery, the toughness, the desire to always improve yourself. Knead it with the vigor of a young man and the wisdom of grandparents, chill it for a while. Mix all the beautiful things of the life together: love, children, friendship, places, trips, work experiences. Then, finish it with some spices: values, ideals, ambitions, dreams. Shape it as you like. Every time you cook it, you will feel reborn.
 Davide…
Organic Pantry
Organic Pantry is proud to be a family run organic farm based at Newton Kyme, near Tadcaster, North Yorkshire. The Watson family have farmed the 300 acres at St. Helens for over 100 years. If you visit the farm, you can find both Jonnie and Fanny working alongside their family to preserve the plant and wildlife for future generations. Their organic produce has been fully certified since 1999 and they provide a wide range of organic fruits and vegetables not only from the farm itself, but from farms all over the country and Europe. They have strong ties with other independent British and European farmers, all of whom have the requisite certified organic status.
Fat Lass Preserves
Artisan Preeserves with a Modern Twist
Fat Lass Preserves aims to preserve & promote historic methods & benefits of preserving by adding a modern twist on flavors and creating inventive ways to use their preserves… Like their unique COCKTAIL MARMALADES  which can be used for toast, or cocktails. And then, there's the VEGETABLE JAMS, a top hit with kids.
Bridget is Owner and Head Fat Lass at Fat Lass Preserves. And, just in case you were wondering, as Head Fat Lass, yes she is a big, curvy lady. She named her company Fat Lass Preserves because the word "fat" is often used as a negative, destructive term, but she believes it's time to reclaim this negative and turn it into a positive.
Fat Lass Preserves works hard to maintain a strong ethical policy & practice. That is, all waste is fully recycled, all food scraps are composted and where possible they always aim to buy local or British produce. Even their recyclable glass jars are made in England.
Fat Lass Preserves is all about producing quality food, using top-notch ingredients. It's food with all the tasty bits left in. Food created to be enjoyed without guilt.
All preserves are cooked in small batches, using only the best seasonal produce & British vinegars to retain & enhance natural flavours.
The preserves are lightly cooked, meaning they taste fresher, juicer & crunchier than traditional preserves.
Many Super Women (and men) come in all shapes and sizes; something Bridget is no longer embarrassed about, and much happier & healthier for it.
MAY THE POWER OF FAT LASS BE WITH YOU!!
Mandala Express
Boasting a range of eight authentic curry classics, this is the cooking sauce reinvented. Each sauce is handmade with a unique blend of fresh spices, guaranteeing you a restaurant style dish in minutes from your own kitchen.
The sauces have been created with a view to enjoying your curry in the most healthy and nutritious way possible; no addditives, preservatives or colours are used, only the freshest of ingredients and the finest hand blended spices, and only a fraction of the oil and salt usually found in a curry. The whole range is gluten free and suitable for vegetarians, and five sauces are suitable for vegans. All this and the delicious taste of your favourite authentic curries, it's a revelation!
The Sauce Queen
The Sauce Queen was developed by Elys Poppy whose own visions of classic and contemporary sauces have seen the development of many new and now award winning sauces. She felt there was a gap in the market, as well as people's tums, for a sauce product that was not only big on flavor, but had a warming, homemade, restaurant quality feel, while being available over the counter and easy to cook at home.
Mazzeh Spice
Xerxes grew up not appreciating how lucky he was that his mum cooked amazing food for the family every day. There was always something different on the table, and it was always delicious. The aroma of fried spices when he came home from school or from playing in the street was…homely, comforting and generally great to come back to.
​
But, one thing he also remember from life at home was that mum was always in the kitchen. He'd wake up in the morning to the sound of her in the kitchen and the smell of onions frying. She seemed to be there for the rest of the day until the last of the washing up was finished in the evening. And when he started learning about the food, he realised that it was because there was always a lot of preparation,, whether that was grinding spices, frying onions or bringing all of the ingredients together.
​
So, with Mazzeh Spice he found the simplest ways to create authentic, traditional Parsi food. These kits require the least possible effort to make beautiful spiced curries, meals, snacks and side dishes for your family and friends.
All of the spice packets are put together by hand in the family kitchen.
Parsi, is the name given to the community of people that migrated from Ancient Persia about 1000 years ago, to live in India. Parsi people are Zoroastrians. It is one of the oldest monotheistic religions in the world, and most simply put, it is about Good Words, Good Thoughts and Good Deeds.
But Mazzeh Spice is about the food. My ancestors are Persian and Parsi food is based on Persian roots, but blended with many of the spices and methods of Indian cooking that have influenced Parsis since they arrived in India all those years ago.
​
Many Parsi dishes share the same name and basis of meals you find in a regular Indian restaurant, however, the flavours tend to be subtly different due to the blend of spices. But most importantly we never sacrifice any of the taste.
Serendipity
Serendipity is a multi award winning charming tea room in Sunderland City Centre. It is a family run business which opened in March 2012. They are so much more than a tea room, also serving delicious homemade food. The surroundings are kitsch, fabulously vintage and welcoming. You can enjoy having loose leaf tea served in vintage china tea cups with their custom blends including Black Cat Special Brew, The Earl of Sunderland and The Wearside Warmer to name a few. We're very happy to offer a selection of this fabulous tea shop's lovingly created loose leaf teas.   Awards include: WINNER 2016 – Cafe/Bistro of the year – WOW Awards – Sunderland Echo and South Shields Gazette WINNER 2015 – City Centre Business of the Year – Sunderland Echo Portfolio Awards TripAdvisor Certificate of Excellence Award 2014, 2015, 2016, 2017 & 2018 TripAdvisor Certificate of Excellence Hall of Fame 2018
Tropical Whole Foods
Based in Sunderland, Tropical Wholefoods are the largest independent importer of Fairtrade and organic dried fruits and nuts in the UK. We also manufacture our own snack bars using our Fairtrade produce. Tropical Wholefoods have been on the forefront of the Fairtrade movement for over 25 years before there was even a mark. We've won lasting markets for farmers in the developing world by paying fair prices in advance, developing and marketing their products and sharing useful technology and experience with them. Tropical Wholefoods are one of the core Fair Trade Organizations (FTOs) that lead and contribute to the Fairtrade Foundation in the UK and The Fairtrade labelling Organization. We are constantly striving to identify and improve the livelihood of farmers that are in the most remote regions of the world and specialize in working in areas of political unrest to reach the most isolated producers. You can enjoy our products knowing they are good for you, good for the environment and good for the communities that produce them.
Storm Tea
A Storm in a Teacup!   Storm Tea like this phrase since they believe that tea in the UK needs a shakeup. We're a nation of tea drinkers but all too often we're brewing mass produced teabags packed in just three or four huge factories around the UK – a little like the big breweries that made ordinary beer for so long until the craft brewers came along with a new concept called – flavour! It happened to coffee and it's happened to gin, artisan bread, cheese, meat and so on. People are voting with their taste-buds and now it seems they want great tea too. At Storm, established in 2010, they built their small family business on the four pillars that they're passionate about. The things that they get out of bed for every morning are amazing flavours, consideration for tea farmers and their staff, care for the planet and care for our general wellbeing. Tea is amazing- as varied and complex as wine. There are so many variables in terroir, altitude, climate, processing, blending, brewing that the choice is endless. Lives are too short to find all of the great teas but Storm Tea are on the hunt through their travels and with their tasting spoons. They want to share great tea flavours and great tea stories with foodies everywhere. Change is in the air. The Storm is brewing…
Rounton Coffee
At Rounton Coffee they understand that working with quality focused suppliers is paramount to running a successful business, that is why they pride themselves on being able to source and provide only the highest quality speciality coffees that are roasted in small batches, using specialised software that creates consistant flavour profiles each time.
Meet the Daves
Dave #1 (Dave Beattie aka Beats)
The founder and driving force behind Rounton Coffee, originally an engineer in chemical processing, left the corporate world behind to travel on a train and eventually found his way to Sumatra, where he experienced working alongside passionate Sumatran coffee farmers and hearing their trials and tribulations around direct trade, processing and quality.
Dave #2 (David Burton – aka Roasty Burts)
Head roaster, green bean buyer, and fixer of things at Rounton Coffee Roasters.
Most days David can be found at The Granary whistling in front of the roaster. He is edicated to sourcing and roasting the finest speciality coffee he can get his hands on – researching every coffee that comes through Rounton Coffee Roasters door.  David left a job in education to make it his mission to promote ethical and sustainable trading in the coffee producing world. His mantra is ''only positive vibes allowed''.
Dana's Family Bakery
A family run bakery based in Gateshead, with 25 years of experience and until Sunshine Co-operative got in touch, they only served the Polish community. They pride themselves on producing high quality baked products, all hand made using traditional methods, from all natural ingredients, without any additives or preservatives. Sourdough is their speciality and their focus is on Nature and preserving traditional tastes.