Meet the Producers
Calder's kitchen
Calder's Kitchen was formed by husband and wife team Andrew and Anne-Marie Calder in 2015. They started making Piccalilli in their family kitchen after discovering Andrew's late Granddad, Charlie's favourite family recipe and deciding to 'give it a go'. After initially giving their first batch to family and friends to try and receiving great feedback, they started to sell hampers at Christmas to raise money for a school in Tanzania, East Africa. They later developed two variations on the traditional recipe, Chillililli which has a delicious medium strength sweet chilli glow and later, the slightly naughty spicy Sillylilli (Andrew's favourite which he now eats with, well pretty much everything!). They take pride in their values which are providing quality, fresh and unique flavours, hard work and making our customers smile.
Screaming Chimp Chilli Sauce
At Screaming Chimp HQ, they think it is important to supply the best product possible, and only use the best produce for the job. Mr and Mrs Chimp make small batches from their kitchen at home, which brings them immense joy. They have always had a passion for cooking, so when an old friend kindly gave them some of his chilli seedlings, which grew big and produced lots of chillies, they knew what they had to do. Using home grown chillies and as many locally sourced ingredients as possible, Mr Chimp set about developing the sauces into the mouth tingling range they have today. The only problem was what to call them. That serendipitous moment came along when visiting friends (you know who you are) and teaching their children how to blow on a blade of grass between two thumbs to make that strange noise we all know ….."That sounds like a screaming chimp"..…. "SCREAMING CHIMP!! That's an awesome name. Perfect…that's what I'm calling the sauces". So, now they couldn't be happier making their troop of artisan Screaming Chimp Chilli Sauces ."Scream if you want to go hotter!"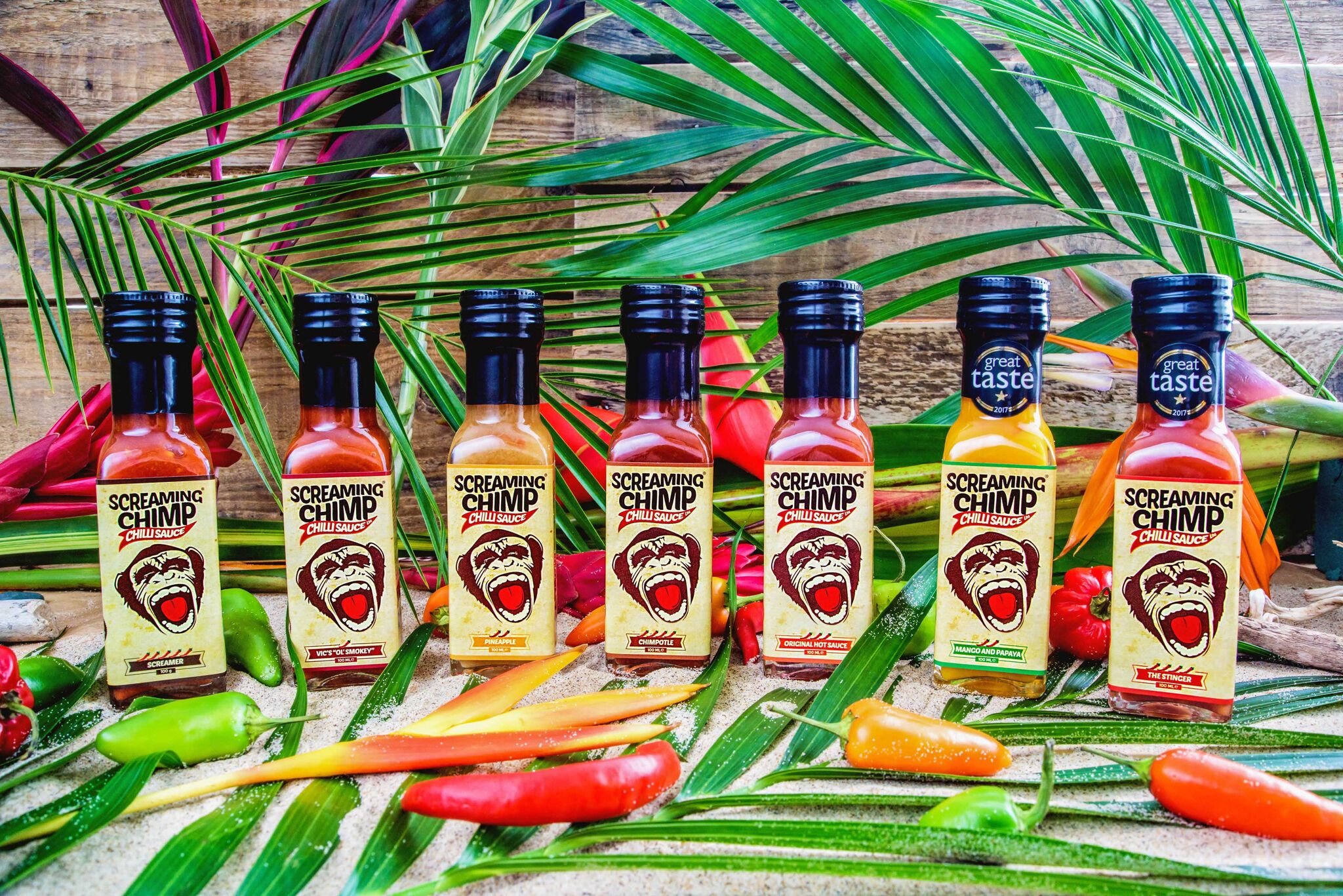 Acorn Dairy
The Tweddle family has been farming at Archdeacon Newton, near Darlington, since 1928 and today, four generations later, they are still heavily involved in dairy farming. You could say it's in their blood! In 1998, as public awareness of the quality and traceability of the food we eat became more vocal, they decided to convert Garthorne Farm at Archdeacon Newton and Hallwith Farm near Leyburn in Wensleydale to organic status. Since then, Gordon and Linda Tweddle, together with son Graham and daughter Caroline, have revived the tradition of doorstep and wholesale delivery across the North of England with organic milk and cream and other complementary produce from Acorn Dairy. Winner of the Food Awards England 2017.
Weardale Cheese
Since 2015, Weardale Cheese has produced a range of artisanal hard and semi-soft cow's milk cheeses in the unique setting of an old Prisoner of War Camp hut in beautiful Weardale, Co. Durham. The milk comes direct from a neighbouring farm and is brought down straight after milking on a cheese day and made in small batches by Simon. The cheeses made include 'Weardale', a firm, white northern dales cheese, a semi-soft 'Brie de Weardale', St. Cuthbert, a semi-soft blue, 'Prince Bishop', also blue but firmer, 'Bonny Moor Hen', lightly smoked with cherry wood, a subtly flavoured 'Weardale Nettle' and the Spanish inspired 'Diablo', flavoured with smoked paprika and chilli flakes.
DaVi
The people behind the Pasta…..
Davide and his partner Lucia left the beautiful city of Reggio di Calabria in southern Italy in Autumn 2008 in search of a more prosperous life for themselves and their then tiny daughter Elena. Davide had worked as a high level waiter in some of the finest catering companies throughout Italy while Lucia studied Interior Design. Meantime Vincenzo worked as food and beverage manager in Milan.
Once the decision was made Lucia travelled by air with Elena while Davide loaded their car to its limits, including his much loved windsurfer (had he known how cold the waters surrounding Newcastle were then he might not have bothered!)
After a few years of working in Newcastle's best restaurants Davide decided it was time to move in my his own direction. His core passion was always cooking so how better to earn a living than by doing what he loved! As passionate as he is, this was not a task to embark on alone. After two brief facetime calls to his brother Vincenzo in Italy, he agreed to join Davide and DaVi (short for Davide & Vincenzo) was born!
The Secret Recipe
Place all the wisdom of mum's hands, add all her imagination, add all her patience. Then, place the dedication to father's work, the bravery, the toughness, the desire to always improve yourself. Knead it with the vigor of a young man and the wisdom of grandparents, chill it for a while. Mix all the beautiful things of the life together: love, children, friendship, places, trips, work experiences. Then, finish it with some spices: values, ideals, ambitions, dreams. Shape it as you like. Every time you cook it, you will feel reborn.
 Davide…
Organic Pantry
Organic Pantry is proud to be a family run organic farm based at Newton Kyme, near Tadcaster, North Yorkshire. The Watson family have farmed the 300 acres at St. Helens for over 100 years. If you visit the farm, you can find both Jonnie and Fanny working alongside their family to preserve the plant and wildlife for future generations. Their organic produce has been fully certified since 1999 and they provide a wide range of organic fruits and vegetables not only from the farm itself, but from farms all over the country and Europe. They have strong ties with other independent British and European farmers, all of whom have the requisite certified organic status.
Fat Lass Preserves
Artisan Preeserves with a Modern Twist
Fat Lass Preserves aims to preserve & promote historic methods & benefits of preserving by adding a modern twist on flavors and creating inventive ways to use their preserves… Like their unique COCKTAIL MARMALADES  which can be used for toast, or cocktails. And then, there's the VEGETABLE JAMS, a top hit with kids.
Bridget is Owner and Head Fat Lass at Fat Lass Preserves. And, just in case you were wondering, as Head Fat Lass, yes she is a big, curvy lady. She named her company Fat Lass Preserves because the word "fat" is often used as a negative, destructive term, but she believes it's time to reclaim this negative and turn it into a positive.
Fat Lass Preserves works hard to maintain a strong ethical policy & practice. That is, all waste is fully recycled, all food scraps are composted and where possible they always aim to buy local or British produce. Even their recyclable glass jars are made in England.
Fat Lass Preserves is all about producing quality food, using top-notch ingredients. It's food with all the tasty bits left in. Food created to be enjoyed without guilt.
All preserves are cooked in small batches, using only the best seasonal produce & British vinegars to retain & enhance natural flavours.
The preserves are lightly cooked, meaning they taste fresher, juicer & crunchier than traditional preserves.
Many Super Women (and men) come in all shapes and sizes; something Bridget is no longer embarrassed about, and much happier & healthier for it.
MAY THE POWER OF FAT LASS BE WITH YOU!!
Mazzeh Spice
Xerxes grew up not appreciating how lucky he was that his mum cooked amazing food for the family every day. There was always something different on the table, and it was always delicious. The aroma of fried spices when he came home from school or from playing in the street was…homely, comforting and generally great to come back to.
​
But, one thing he also remember from life at home was that mum was always in the kitchen. He'd wake up in the morning to the sound of her in the kitchen and the smell of onions frying. She seemed to be there for the rest of the day until the last of the washing up was finished in the evening. And when he started learning about the food, he realised that it was because there was always a lot of preparation,, whether that was grinding spices, frying onions or bringing all of the ingredients together.
​
So, with Mazzeh Spice he found the simplest ways to create authentic, traditional Parsi food. These kits require the least possible effort to make beautiful spiced curries, meals, snacks and side dishes for your family and friends.
All of the spice packets are put together by hand in the family kitchen.
Parsi, is the name given to the community of people that migrated from Ancient Persia about 1000 years ago, to live in India. Parsi people are Zoroastrians. It is one of the oldest monotheistic religions in the world, and most simply put, it is about Good Words, Good Thoughts and Good Deeds.
But Mazzeh Spice is about the food. My ancestors are Persian and Parsi food is based on Persian roots, but blended with many of the spices and methods of Indian cooking that have influenced Parsis since they arrived in India all those years ago.
​
Many Parsi dishes share the same name and basis of meals you find in a regular Indian restaurant, however, the flavours tend to be subtly different due to the blend of spices. But most importantly we never sacrifice any of the taste.
Moroccan Food Culture
Nadia's Story:
Nadia's talent as a cook and love and passion for cooking, came from her Moroccan origins. It had always been her drive to share the skills and knowledge learned in childhood while preparing a wide variety of dishes with her mother, passed down from her grandparents who were cooks by trade and worked in embassies and top hotels such as La Mamounia in Marrakech in the 1930's. She started by trying family's recipes – the combinations of herbs, spices and everything she learned from an early age, when she explored the aromas of the Marrakech souks and chose the spices.
Nadia is a qualified teacher and her passion for cooking and languages brings her mush joy as she loves to share her knowledge. She teaches Moroccan Cooking Classes – Marrakech Home Cooking Made Easy and has created her own Lemon Chicken Marinade, which came as a direct result of teaching adults who requested an authentic recipe in a jar without compromising on flavours. It is the prefect marinade. Anyone can use to create a perfect tagine to be proud of and share with their loved ones.
The Tea Enthusiasts
The Tea Enthusiasts are just that, Enthusiastic about Tea. Their mission is to bring loose leaf tea and its myriad of flavours to as many people as possible and have fun doing it. They want to dispel the myths of over-complication around loose tea and present new and innovative flavour experiences. To achieve this they are building a community and creating new products in quirky ways. Sure you can still get your typical tea from them, but if you are looking for something new and a little more interesting then you have come to the right place!
Liza Johnson, founder of the Tea Enthusiasts. " I have always enjoyed great tea and having the good fortune to be related to a tea merchant I was always at the receiving end of high-quality samples that I could share with my friends. All of my friends could tell you their favourite loose black or green tea blends, their children could tell you about the fruit infusions they enjoyed. When a new blend arrived I would take the opportunity to share it with friends by inviting them over, sharing the learning journey. The Tea Enthusiasts is rooted in rolling out that experience to all."
The company is built around offering customers a learning journey. Together we will explore new flavours and new blends, will discover what suits our lifestyle, our health needs, our taste buds. Then we will all share that with our friends so they too can make loose leaf artisanal tea part of their life. Why? Because not only is tea cheaper than fizzy drinks and more hydrating than coffee but it is an exciting way to improve your daily diet and reap health benefits from every sip.
They source their teas from the best tea gardens and plantations around the globe. Each tea or tisane is hand-selected and contains a unique blend of natural ingredients. They only sell the best quality loose leaf teas, most of which are sourced from the top 10% of the harvest from the finest tea estates and regions. Wherever possible they source our teas and tisanes from plantations that are organic and ETP accredited (from Ethical Tea Partnership).
Their aim is to be as sustainable as possible, loose leaf tea is inherently more environmentally friendly than tea bags, packaging has also been sourced to be as recyclable as possible, something that they constantly review. They will also be providing innovative ideas on what to do with your used tea leaves.
We include Black, Green, White, Pu erh, Oolong, Flavoured, Slimming & Detox as well as a range of fruit, herb, spice, flower and root tisanes in our selection. If you don't see the blend you would like on offer, get in touch and we will try to blend it up for you!
If you want to know more about the health benefits of tea, or want guidance on how to brew the perfect cup, look no further than our blog
If you want to try loose leaf tea but don't know where to start, you can just ask us! A short conversation and we can recommend a blend for you to start on.
Tropical Whole Foods
Based in Sunderland, Tropical Wholefoods are the largest independent importer of Fairtrade and organic dried fruits and nuts in the UK. We also manufacture our own snack bars using our Fairtrade produce. Tropical Wholefoods have been on the forefront of the Fairtrade movement for over 25 years before there was even a mark. We've won lasting markets for farmers in the developing world by paying fair prices in advance, developing and marketing their products and sharing useful technology and experience with them. Tropical Wholefoods are one of the core Fair Trade Organizations (FTOs) that lead and contribute to the Fairtrade Foundation in the UK and The Fairtrade labelling Organization. We are constantly striving to identify and improve the livelihood of farmers that are in the most remote regions of the world and specialize in working in areas of political unrest to reach the most isolated producers. You can enjoy our products knowing they are good for you, good for the environment and good for the communities that produce them.
Dana's Family Bakery
A family run bakery based in Gateshead, with 25 years of experience and until Sunshine Co-operative got in touch, they only served the Polish community. They pride themselves on producing high quality baked products, all hand made using traditional methods, from all natural ingredients, without any additives or preservatives. Sourdough is their speciality and their focus is on Nature and preserving traditional tastes.
Suma Wholefoods
Suma is a wholefood collective founded in 1977 by a liberally-minded group of people who believed there was a better way. They're passionate about vegetarian, natural and responsibly sourced products. They are one of the largest co-ops of their kind in Europe, working together to improve our society and support our producers and customers.
South Durham Honey
For George Soppitt, Beekeeping began as a hobby in 2007 when his role delivering horticultural and conservation in a special educational school led him to discover more about the environmental importance of working with bees, and what began as a hobby quickly became a family business. Producing 100% unblended raw English honey directly next to Whitworth Hall in Spennymoor, the bees can access the abundant Co Durham Farmland along with the wildflowers the banks of the River Wear can offer. The business work with local farmers and nature reserves to find specially selected  sites to help pollinate Co Durham's crops and plants throughout the spring and summer months, producing some of the finest honey.
Northumbrian Pantry
Situated in the North Tyne Valley of Simonburn, Alice and husband David run Northumbrian Pantry from their family home, selling jam, jelly and chutney, drawing inspiration from Alice's travels and her upbringing in the Northumberland countryside. After living in Botswana to manage a Realis and Chateaux Safari Camp, the pair returned to Northumberland in 2014 and wanted to start a local enterprise using their combined skills, and from there the vision for Northumbria Pantry was born. The vision being to create the highest quality of preserves achievable, the pair carefully select the highest quality of ingredients, which are either handpicked seasonally from the orchards and wild hedgerows of the North Tyne Valley, or sourced from trusted local suppliers and markets. Committed to a positive environmental approach to all business practices and reducing their carbon footprint, all of the glass jars are made from partially recycled glass, with all labels printed on paper.
Life Kombucha
Life Kombucha is brought to you by the master brewer's family in Hong Kong which has been passed down by her grandparents. The three-generation old recipe consists of a blend of special tea that gives the kombucha that subtle honey-like flavour. It also created a fine balance of sweetness and mouth-watering tartness. All of their teas are brewed with high quality water from the Northeast and fermented with fresh local produce. 'Life kombucha is not only celebrating our Asian heritage, but is full of Northern soul!'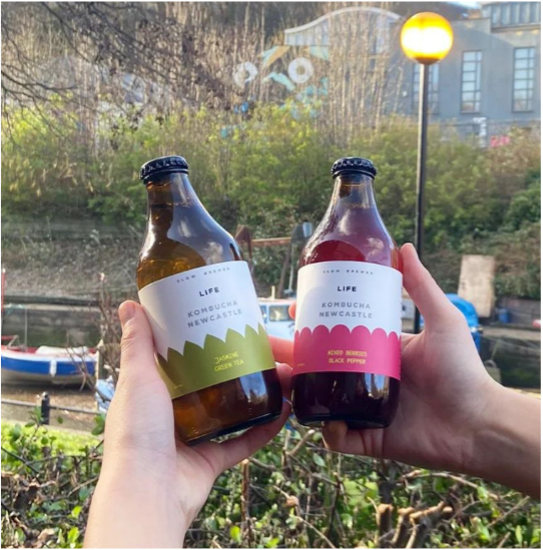 40 Kola
Upon realising there was a gap in the market for a simple and all-natural soft drink, lifelong friends Dan and Kieron began working on a recipe, and out came 40 Kola. The pair aim to curate not just a brand, but a community with their all-natural, caffeine infused beverage. Being an independent company, it gives them the freedom to work alongside other businesses who have a similar standpoint and view the world in the same light. From the beginning the goal was to champion the importance of minimal waste, and so their signature 40 milligrams of caffeine come from the decaffeination process of decaf coffee beans.
Durham Soap Company
Durham Soap's aim is to create high-quality 100% natural soaps, made up of ingredients that do not harm the environment or your skin. The business began selling their products at local fairs and agricultural shows, quickly established in regular Farmers Markets in Hexham, Durham and Lanchester, alongside local retailers. Durham Soap now sells a range of products ncluding soaps, shampoo and conditioner, lip balms, and more!
North Chocolates
Founded in 2013 and handmade by Bev Stephenson, award winning North Chocolates are made up of only the finest couverture – meaning less sugar and no vegetable fats, simply more ethically sourced and sustainable cocoa and cocoa butter! They specialise in seasonal, small batch gourmet chocolate bars, often using premium single origin beans, all vegetarian and 99% are gluten free. Just some of their flavours include raspberry dark chocolate, milk salted peanut, and rhubarb ruby, with so many more to choose from, all celebrating the North East's heritage.
Balefire
Ran by twin brothers and best mates Pete and Jim, Balefire is a family run business based in County Durham, it's name originating from the Anglo-Saxon word for bonfire, reflecting their burning passion for food and representing their strong northern roots. Both professional chefs turned brewery workers each have an unparalleled passion for food and drink, and in particular, hot sauce. Acidity being essential to the balance of flavour, Balefire use both historic and modern brewing techniques to ferment, acetify and age their vinegars from grain to bottle, also fermenting their chillies for several weeks to enhance their distinct flavour. As well as this, they minimise waste and single use plastic, ensuring all products are vegan friendly and all containers are fully recyclable, sourcing the majority of ingredients used from local suppliers, this reducing their carbon footprint.
Durham Coffee
Durham Coffee are a family business with a passion for coffee and a love for Durham and the Northeast, offering ethically sourced speciality coffee with a local twist. Father and daughter duo Bernhard and Carina have worked in the coffee industry for many years, establishing Kaffehaus Amadeus in Lanchester, as well as training and teaching others about speciality coffee. All the coffee is sourced from a sustainable supply chain which can be traced back directly to the coffee farm. Their suppliers work in close partnership with the farmers to ensure highest quality, sustainability, and fair prices, which leads to long-term relationships helping coffee farmers to build sustainable businesses. From their Cathedral blend to Castle blend, their range of coffee can be found online and in our store.
Jean's Jams
Using only the best quality ingredients with no preservatives, founder Jean Read began creating her jams in 2001 from her kitchen in Newcastle Upon Tyne, now being award-winning products twenty years on. These distinctive soft set jams, curds, marmalades and chutneys are freshly prepared by hand in small batches, with no additives, all making great gifts!  As well as this, all jams are classed as extra jams, meaning they all have a much higher fruit content, making them burst with a 'fabulous fruity flavour'!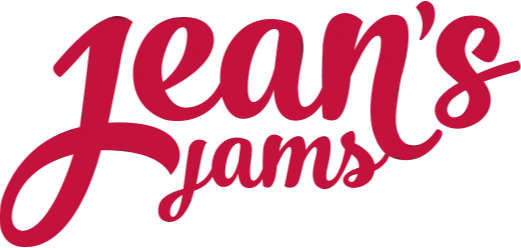 Belle and Herbs Farm
Friends Sam and Pan are the creators behind Belle & Herbs Farm, bonding over their shared love for cooking and food. The company began life as a multi-award winning restaurant in 2003, going on to win three consecutive annual Observer Food Awards. Belle & Herbs Farm sell products from Kimchi, Chilli sauce, Kraut, and more. Sam received a BBC Food & Farming Award in 2019 in BBC's Cook of the Year category, while Pan is an expert in Asian cookery, coming from Myanmar, while her family have operated fermenting businesses for generations. She has also worked in a multitude of professional kitchens as a chef – Including 8 years with Café 21 Group, which is regarded as being the most professional kitchen in the North of England.
Parlour Made
Parlour Made is very much a family business, made up of Neil and Carol Peacock, as well as son Joe, each with their own significant role – Neil and Joe milk the cows, while Carol makes the cheese. After years of extensive research and planning Neil and Carol decided to diversify into handmade artisan cheese made using their own farm assured milk. The Dairy herd consists of cows which were all born on the farm, since the family are passionate about herd welfare which ensures consistent high-quality milk, which is then piped from the parlour to the cheese vat, where Carol's cheesemaking begins. Spending most of her career teaching cookery as well as helping at the farm, Carol attended agricultural College to learn the art of cheesemaking, spending years since perfecting her cheeses. The cheeses you can buy range from blue cheese to red, soft cheese, white cheese, and more.
Meraki Cacao
Meraki Cacao was founded by chocolate and travel lover Vicky in 2016, after trying every 'healthy' chocolate out there and not particularly liking any, this leading her to create her own. Finding joy in exploring new places, Vicky took the inspiration from her favourite destination spots she had visited or would like to, and the foods that created memories from being there. Instantly knowing she wanted to create a raw chocolate which was dense in nutrients and sugar free, meaning she uses unroasted cacao nibs and raw cacao butter, which are stone ground with a sweetener – This unusual method produces an incredibly smooth mixture, allowing the chocolate to melt in your mouth. Just some of the incredible flavours of cacao include orange & raw caramel, roasted almond, and banana, hazelnut and coconut.
Raw, Wild & Concious
Over the course of the past several years they've been experimenting with various ingredients, so as to create wonderful chocolate, which is high in nutritional content and rich flavour. Their experiments and explorations have led  to sourcing beautiful single origin heritage cacao beans from a small jungle plantation in the Yapaterra region, within the Highlands of Peru. The beans are fermented and then sundried, instead of being roasted to death. The beans are then stoneground in Scotland and blended with fruit sugars, dried fruits, nuts and spices.
No dairy, refined sugar or soya, out with organic coconut palm sugar. Every bar is handmade and wrapped in biodegradable cellophane. This chocolate is deeply satisfying on all levels and really nourishing for the body.